BETSA®
Pneumatic Drive System
[PDS] - [APDS]
The Pneumatic Drive Systems [PDS]-[APDS] are used to control the force applied to the Membrane Diamond Anvil by varying the pressure in its membrane.
The PDS is designed and assembled in the BETSA® workshops.
The APDS
is a set of GE® components with the appropriate connections supplied by BETSA® and dedicated software for membrane pressure control
Manual Pneumatic Drive System [PDS200]
The small size, weight, and portability of the [PDS] allow its use in a variety of environments.
Features

0 to 200 bars Pressure range.
Digital Pressure display with a 0.01 bar resolution.
Fine and continuous Pressure control with 2 valves ( " IN " and " OUT " )
0.4 l Bottle filled with helium (200 bars) allows for many pressure cycles before reloading.
High pressure connection for the output (on the rear panel): Nova Swiss female for 1/16'' capillary.
High pressure connection for loading (on the rear panel): Tube ¼'' Gyrolock female.ortable Size : 260 x 150 x 400 mm; Weight : 6,300 Kg
Automatic Pneumatic Drive System
[APDS210]
BETSA® is in partnership with General Electric® to integrate their Modular Pressure Controllers
in Membrane DAC-based high-pressure setups.
The Automatic Pneumatic Drive System is a modular pressure controller. The APDS controls the force applied to the MDAC anvils by varying the gas pressure applied on its membrane.
The small size and weight, and the portability of the APDS allow its use in narrow spaces.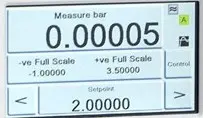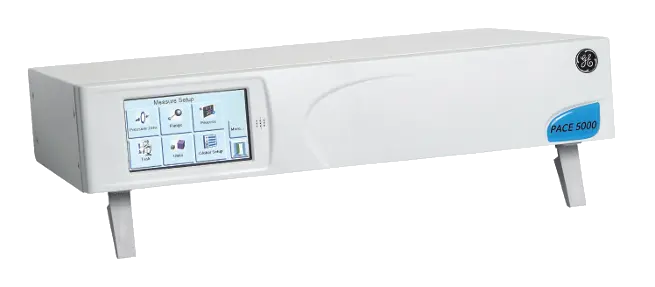 Features
Automatic Pneumatic drive System controller - 210 bars- Without internal helium bottle
Rear panel connections G1/8 female

Weight 11Kg

Dimensions 44cmx 2U x 32cm

Touch screen - Intuitive icon task driven menu structure

Compatible with software packages; RS232, IEEE connectivity, Ethernet and USB as standard

Control Module (standard)

Precision up to 0.02%

Stability +0.005% FS
BETSA® APDS Controller SOFTWARE
This software allows to communicate with the Automatic Pneumatic Drive System in order to control her outlet pressure with different settings.
Operating system : Windows 7/8/10
Communication protocol : SCPI
Connetion : Cable USB serial converter
Display of outlet pressure (membrane pressure) in bar

Display of inlet pressure (Helium bottle pressure) in bar

Setting of set-point in bar
Fast - The controller quickly changes the pressure with possibility to go beyond the set-point.

Not allowed - The controller changes the pressure according to an exponential variation up to set-point
Linear - The controller changes the pressure linearly up to set-point according to a variation defined by the user (Slew Rate)

Max Rate - Instant variation up to set-point.
Setting of Slew Rate in bar/minute or second depending of the unit set in the APDS210.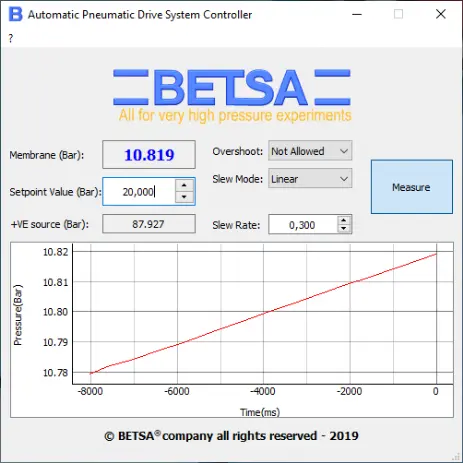 Download Driver and Related Software
GE PACE Series Controller
Certified LabVIEW Plug and Play (project-style) Instrument Driver
Driver SpecificationsManufacturer(s): GE Sensing
Interface(s): Ethernet, USB, IEEE 488.2 (GPIB), Serial
Instrument Type(s): Controller
Models Tested: PACE5000, PACE6000
NI Certified: Yes
NI Supported :Yes
BETSA® can offer a solution adapted to your environment.
with pneumatic components, we can connect your laboratory equipment with the PDS